SUSTAP LLC, is a sustainable faciities support service and product company. SUSTAP are project managers, trainers and consultants, manufacturers and distributors of facilities support products and services. The company was founded by two women, each serves in the military and federal space for more than twenty five years.
SUSTAP
does business with government agencies, including serving as Prime Contractor for U.S. Department of Treasury (MINT), U. S. Defense Logistics Agency, the U. S. Department of Defense, the U. S. Department of Army,
U.S. Department of the Navy.
SUSTAP serves as subcontractor to various Primes including as subcontractor to Gentex on its DOD contract, among others.
SUSTAP is proud of its excellent past performance review for consecutive years on CPARS and of its testimonials from customers on our commitment to providing quality service and quality product.
Our in-depth experience within the federal space has helped us to build the SUSTAP brand to one that each and every customer will be confident to have chosen to support its mission.
SUSTAP outstanding rated past performance certifies its guarantee to deliver best value and best price on time, on budget, and on scope.
What We Do - Services & Products to Support Facilities
Our Services include (certified) TRAINING, PROJECT MANAGEMENT, ENVIRONMENTAL SERVICES, FACILITIES SUPPORT.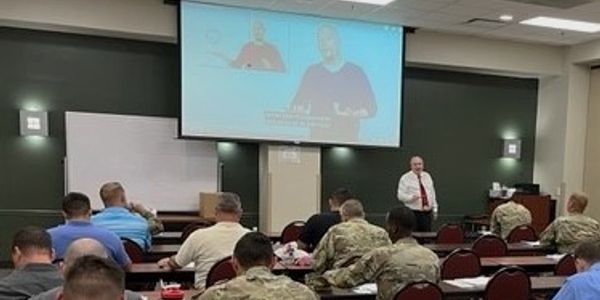 SUSTAP Training Our Soldiers Transitioning to Civilian Life at Fort Bragg - Certification in Facilities Profiling
Sustap's certification training programs include Project Management Training and PMP Prep courses, Proprietary Facilities Training and Certification in Facilities Profiling®
Facil

ities Support Products include, Recycled Plastic & Wood Pallets, Corrugated Boxes, Containers.
Energy Efficiency Products include, Solar Panels, Air & Water Purification Systems
OUR PRODUCT LINES:
NAICS Codes:
Education & Training
611430 - Professional and Management Development Training
611513 - Apprenticeship Training
611691 - Exam Preparation and Training
541690 - Secured Services for Facilities
Other Business Lines
541620 - Environmental Services
541620 - Facilities Support Services
541614 - Process, Physical Distribution, and Logistics Consulting Services
333413 - Air Filtration (HEPA filters)
321920 - Pallets (Includes Custom & Recycled)
322211 - Corrugated Solid Fiber Box Manufacturing
Our Experience
SUSTAP management team has a combined 65 years' experience in the federal space along with certifications applicable to project management, contract management, and logistics and physical security.
SUSTAP team has more than 25 years' experience in facilities support in the military and federal space along with certifications applicable to maintenance, water treatment, air filtration equipment, HVAC and physical security.
The SUSTAP team has more than 20 years' experience facilities experience in consulting and inspecting U.S. Naval Ships and buildings.
The SUSTAP team holds a HVAC Universal License C, Advanced Ammonia and a Class Five Wastewater certification.
On staff are trained and certified engineers, including its Chief Facility Engineer with more than 25 years' experience and is a CPMM Facility Engineering certifier through the Association for Facilities Engineering organization.
SUSTAP team assigned personnel has more than two decades project management expertise and certified post graduate work which includes advanced masters project management and masters project management certification; past performance as lead program manager supporting U.S. Department of Defense (including Pentagon, U.S. Department of Army, U.S. NAVY) U.S. General Services Administration (FAS/PBS), U.S. Office of Personnel Management, U.S. Department of Energy, U.S. ATF, U.S. Postal Inspection Service, U.S. Department of Transportation, U.S. Department of Justice (Bureau of Prisons). Experience also extends in civilian, military, academia, and international.
SUSTAP team facilities expertise includes, DLA, DOD, DOE, NAVY, ARMY, MARINES, AIR FORCE, and Coast Guard.
Its team of certified engineers, certified program managers, and contracting specialists enable SUSTAP LLC to also include services and past performance under facilities support, environmental services and program management.
Our Alliances
SUSTAP LLC also has an allegiance with several Tribal Nations, is a preferred vendor of Two Tribal Nations, a vetted and approved client of Seven (7) U.S. Department of Commerce Minority Business Development Authority Centers across the country and approved supplier to several Primes; including Johnson Controls, EMCOR, ENOVITY, BAE and approved vendor to Skanska, WalMart, Gentex and Novartis.
Our Identifiers and Government Certifications
SUSTAP LLC is active on SAM.GOV to do business with the U.S. Government and is approved contractor for several states; including California and New York (see capabilities statement).
DUNS: 079159184

CAGE: 712U7

EIN: 463809914

Women-Owned Business Enterprise (WBE)

Minority Owned Business Enterprise (MBE) -

American Native/ (NDN EDWOSB)

Sustap LLC is 100% wholly owned U. S. Business, headquartered in Kingston, Pennsylvania.
Our Facilities Support Products & Technologies




SUSTAP offers our customers highest standards of quality assurance, excellent past performance, and a long track record in business areas, sustainable strategic marketing, environmental engineering, corporate business and government contracting.




SUSTAP manufactures and distributes products to support facilities, from shipping and packaging to energy efficiency technologies, including, solar, air purification, water filtration systems, solar panels, and other energy efficient technologies and retrofits.




SUSTAP logistics/shipping of redesigned and recycled products in their business line for shipping such as recycled plastic and wood pallets, corrugated boxes, containers, and other similar sustainable technologies. SUSTAP offers project management, facilities and logistics management.




SUSTAP has multiple national capabilities, including Washington DC (and metro DC), New York (and Tri-State area), New Hampshire (and Mid-Atlantic and New England), Pennsylvania, and California (Northern and Southern).




As a wholly operated minority (native American) woman owned enterprise (NDN-EWOSB), SUSTAP also offers contracting officers in both private industry and government a solution in meeting their diversity set-aside program.




For more information contact us,

119 Hughes Street, Kingston, PA 18704

https://www.SUSTAP.com

email us at: info@SUSTAP.com

or call us 571.293.1290

vgibson@sustap.com - West Coast - 650-201-4723

dgallagher@sustap.com - East Coast - 202-230-0065